In the winter time my skin feels like it is on fire.
It is so dry, red and itchy. I just can't stand it.
So, I did some research to find something I could use and all natural plus good for my skin.
A sugar scrub was just the thing I needed to help relieve my sensitive skin.
Do you suffer from dry, itchy skin in the winter time too?
Homemade Sugar Scrub Recipe
(affiliate links have been used in this post to provide me with a small commission)
Ingredients needed for Homemade Sugar Scrub
1 cup Sugar (affiliate link)
½ cup Coconut Oil (affiliate link)
10 drops of your favorite Essential Oils (affiliate link)
Sugar Scrub Supplies
Glass Bowl (affiliate link)
Containers like these: 1 cup mason jar or 2 1/2 cup size mason jars or plastic containers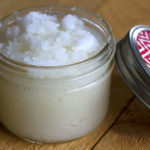 Homemade Sugar Scrub
Easy all natural homemade sugar scrub you can make in about one minute. Only two ingredients need to make this smoothing and soothing skin exfoliator.
Ingredients
1

cup

sugar

1/2

cup

coconut oil
Instructions
Using a glass bowl, measure out 1 cup sugar and pour in the bowl.

Next melt 1/2 cup coconut oil and pour over sugar.

Now mix together thoroughly until well combined.

To give as a gift or use in your shower, place in a 1 cup mason jar or 1 cup non breakable container.

To use. Scoop about a teaspoon size in your hand and gently rub over your skin.
Why is a Sugar Scrub a good idea?
The sugar acts as a gentle exfoliate for your skin and the coconut oil adds additional moisture. The best time to use it is in the shower. Just grab enough using two fingers to scoop the sugar scrub out. Gently run in circular motions on your skin until most of the sugar dissolves. Then rinse off in the shower or tub. Be careful the bottom of your shower may be a little slippery after using this, so use caution.
Is it OK to exfoliate with sugar?
If you have a preexisting skin condition, you may want to test a small area to see if it will work for you. Sugar scrubs are generally safe to use on the body, since they contain natural ingredients.
Do Homemade Sugar Scrubs work?
My legs are especially dry during the winter and I am scratching them all the time. However, since I started using this every time I take a shower, my skin is not nearly as itchy. The sugar acts as a great gentle exfoliator and the coconut oil really moisturizes your skin. After using this sugar body scrub, you will have soft and smooth skin.
Watch the YouTube Video and subscribe to my channel for more DIY beauty items.
Try these easy natural beauty care products you can make at home
Do you have dry skin? If so this may be the answer to your prayers.