Don't you wish you could go to the spa at least once a week? Who doesn't? But who has the time and the money for weekly spa treatments?
You don't need to wait for an appointment with a high end spa to have a spa day at home. This ultimate at home spa kit will let you go to the spa whenever you want. The hardest part is trying to find the time.
Feel refreshed with these simple recipes you can make in your home for far less than an entire day at the spa.
Ultimate At Home Spa Day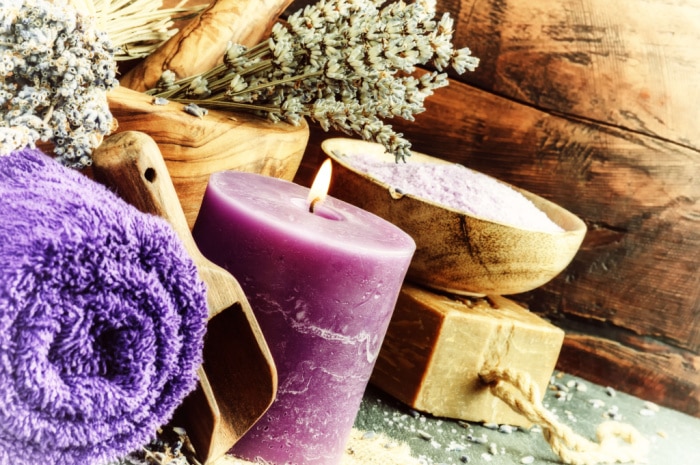 Best Tips for Spa Day At Home
The best tip is to make a big batch of each of these to always have them on hand, for those days when you really need it.
Bath Bombs or Bath Salts
Face Mask – 52 recipes to chose from
Steps to the Ultimate Spa Day
1. Set The Tone
First, start with getting everyone out of the house or at least settled in a quiet activity like watching a movie. Then create a spa oasis in your bathroom. Some simple music and create the smell of a spa. Eucalyptus or lavender create the relaxing spa smell to melt your stress away. Lighting some candles helps set the mood too.
2. Get Ready to Relax
Start with a great face mask. Take a look these Face Mask52 natural face masks to find the perfect one for your skin. Then create a nice warm bath to start your relaxation day. Not too hot, but enough to relax your muscles. Make a batch of refreshingspa water to stay hydrated. Go ahead and make a big batch to keep in the fridge for after.
3. Get Your Skin Ready
Then start with exfoliating and moisturizing your skin at the same time. With a good sugar scrub. The top two cleansing oils I would recommend would be Tea Tree and lavender. Add these about 5-10 drops to make a three in one sugar scrub, exfoliating, moisturizing and cleansing scrub. I like things that are multi-purpose. Don't you?
4. Bath Bomb
Now add your favorite bath bomb to your relaxing warm bath. This is the fun part where you can experiment a little with essential oils based on your mood or the mood you want to create. Add about 5-10 drops of oil to your bath bomb using these simple recipes. Lavender and Eucalyptus are great for relaxing, Peppermint and Eucalyptus for energizing, Wintergreen for sore muscles or Tangerine for more focus.
If you don't have any bath bombs on hand or just don't have time to make any, then try these homemade bath salts with similar ingredients without the fizz. These are great in a pinch.
5. Lock In The Moisture
Now it is time to keep all that moisture in your face and skin. This all natural face moisturizer is perfect for creating a glow and really soft skin for your face. I just love it and my skin feels so soft and smooth.
Since your skin is your largest organ, it is best to use natural ingredients on it as much as possible. This Whipped Body Butter is the best for quickly moisturizing and hydrating your skin. It is made with this amazing shea butter. This is also a good way to add scent to your skin without adding perfume. Here is a great article on how to make your own perfume you might find helpful. Your carrier oil in this case is your body butter.
The Best Ultimate at Home Spa Day
Now you have sealed in the moisture to your skin and are glowing from head to toe and feel relaxed and ready to go. You can feel great about yourself creating a natural at home spa day inexpensively. Make sure you take some some time for yourself to recharge. Remember self care , it is not only for you, but for those around you. If you are relaxed and recharged you will be a better you.
I would love to hear if you enjoyed your ultimate spa day to pamper yourself. Leave me a message on Instagram, Twitter and Facebook. Or share this post with your friends, so they don't have to miss out on their own spa day.
Sign up for my newsletter for more great ideas delivered right into your inbox.