First Published: January 13,2013… Last Updated: Apring 16, 2020
This homemade biscuits recipe is where my journey for making it from scratch began.
I was purchasing refrigerated biscuits from the store. Then I noticed all the extra ingredients in the store bought ones. In order to be more homemade, I purchased a box of Bisquick. Then I wondered if I could still get biscuits cheaper and healthier by making my own.
Then I remembered my southern grandmother and women on the prairie didn't have the luxury of just opening a box to make biscuits. They had to make them by hand and from scratch. So I knew this could be done.
I did a lot of research to find out how to make the best homemade biscuits from pre-made biscuit mix. If you pre-make the homemade biscuit mix then, when ever you want biscuits it will be simply measuring what you need. If you are following a recipe that needs homemade biscuits recipe mix, you will have your own ready to go. This will be just that easy.
Homemade Biscuit Recipe
Ingredients for easy Homemade Biscuit Mix Recipe:
6 cups flour
3 tablespoons baking powder
1/2 cup shortening – 4 months storage (or use butter 6-8 weeks refrigerated) I only use butter now
2 tablespoons sugar (can be omitted, but tastes better with a little sugar or honey)
1 tablespoon salt
Directions for making easy homemade biscuits recipe:
1. Sift all the dry ingredients together to incorporate well.
2. Use a pastry blender like this one to cut shortening or butter into dry mixture until crumbly.
Directions for Homemade Biscuits Recipe:
1. Preheat oven to 450. Measure 2 cups mix and 2/3 cup milk (or homemade buttermilk for buttermilk biscuits). Stir ingredients together. Just get your hands in there and mix it for a minute or two.
2. Here is the secret step for really flakey layered homemade biscuits. Take the dough and layout on a floured surface and fold it over on itself and roll it out again. See all those layers in the picture? Keep folding over on itself and rolling out about 10 times for really nice layered biscuits.
3. Use a biscuit cutter or a large mouth glass to cut the biscuits. Lay them out on a baking pan like this one and bake for about 8-10 minutes for large amazing biscuits. You could also just make drop biscuits with the same recipe to save some time.
Check out how to make butter to add to your nice warm biscuits with some homemade strawberry jam.
Directions for making Homemade Pancake Mix: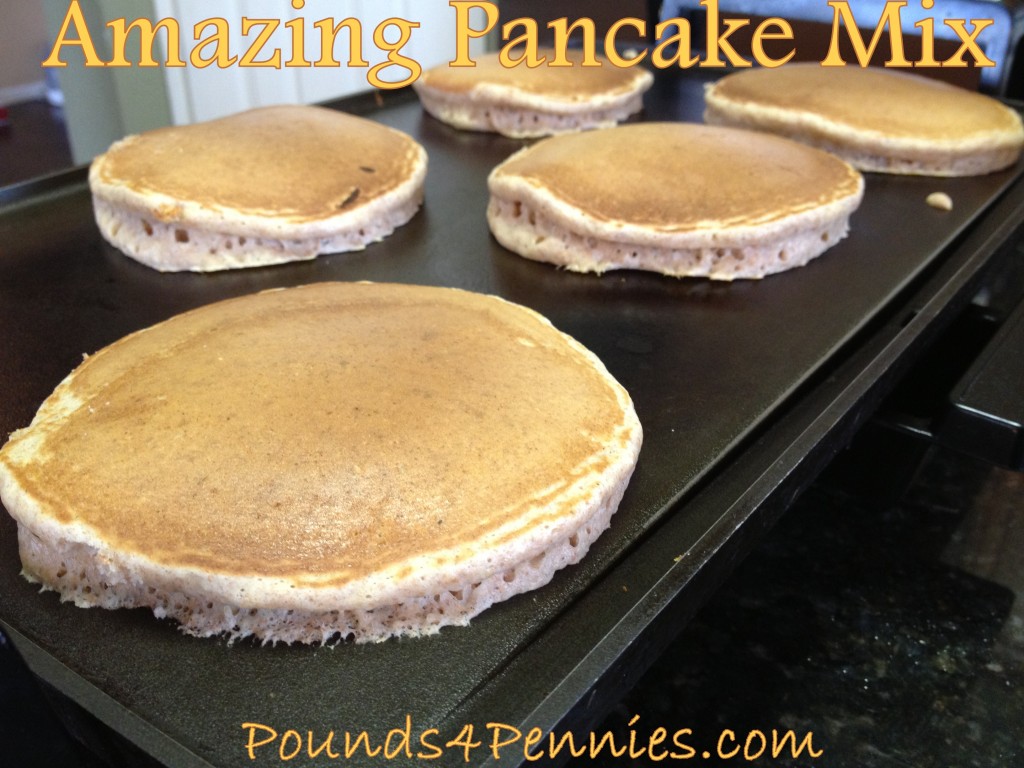 1. Measure 2 cups biscuit mix, 1/4 cup sugar or honey, add 1 cup milk (or buttermilk) and two eggs. For extra fluffy pancakes add 1 teaspoon baking powder. Stir to make a batter, but don't stir too much. It is ok if it still has a few lumps in it.
2. Pour onto griddle like this one around 350 degrees and brown on both sides. This is the best homemade pancake mix. We made these just the other day with the buttermilk. These were the best pancakes we have ever made. You will have to add this homemade pancake mix to your recipe log.
Serve with homemade pancake syrup or drizzle with Homemade chocolate syrup. Follow Mainly Homemade on Facebook and Pinterest for more homemade recipes.
Tip: We like to add fruit puree like smashed bananas or pureed strawberries. Even add some homemade yogurt to your pancakes for more calcium and protein. Try this Apple Pancake Recipe for an easy breakfast idea.