Making your own kombucha can be a scary task. I am here to help eliminate the fears and show you how to make make the best homemade kombucha without a scoby starter. Yes, it can be done successfully with very little start up cost and it is so easy. This will save you thousands of dollars in kombucha a year.
What is a scoby you ask? It is a symbiotic culture of bacteria and yeast (scoby). It is the key ingredient to making homemade kombucha. Without one you just can't make it. The top is a fungus that grows on top with yeast at the bottom to create the fermented kombucha drink. Kombucha is said to introduce good bacteria into your gut for overall stronger immune system.* I drink it everyday.
Making Kombucha Scoby Mother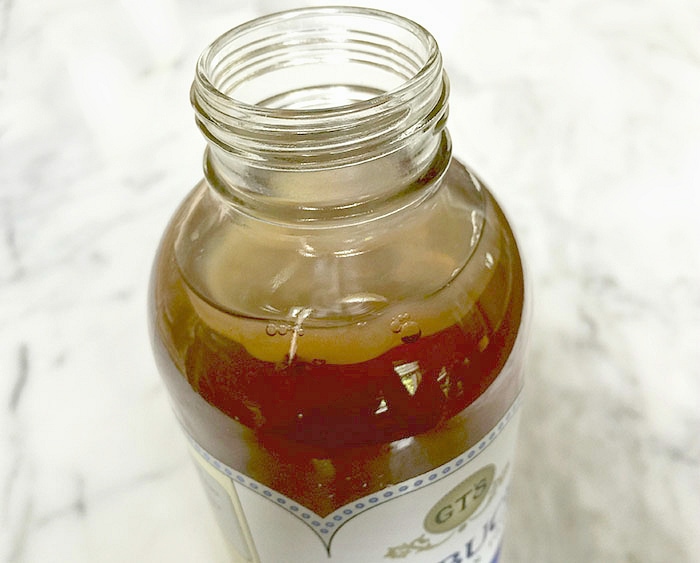 (affiliate links have been used throughout this post)
Ingredients for making kombucha scoby Mother
Water (distilled or purified)
Sugar
Organic tea bags
1 16oz bottle of plain kombucha (I recommend GTS)
Vinegar for cleaning
Supplies to make grow kombucha scoby
1 gallon glass container
1 quart glass container (mason jar)
pot to boil water
wooden spoon to stir
The most important thing to remember is everything must be sterile and clean to get the best results while brewing your own kombucha and making kombucha scoby from scratch.
Making Kombucha Scoby Mother From Scratch
The first step is so easy. Open the bottle of store bought plain kombucha and place a cloth with a rubber band over the top and set in a dark place undisturbed. The cloth and rubber band prevent any additional bacteria or fruit flies getting in and disturbing your wonderful kombucha scoby making process. Every bottle of raw kombucha has all the essentials to make a scoby right inside the bottle. Yep, that is it to get started to make your own kombucha scoby.
Wait at least one week up to 12 days until you see a tiny scoby mother start to form on top. Don't touch it or move it at all during this time. Allow it to grow on its own. The scoby should be a white spongy like circle at be least a 1/4 to 1/2 inch thick. That is a perfect baby scoby.
Making the Tea and Grow Kombucha Scoby Larger
Now we are ready to brew our first mini batch, since our tiny scoby is not quite strong enough to make a large batch of yummy kombucha, we need to grow a bigger one to make a gallon of kombucha. To make the tea, bring 3 cups water to a boil. Turn off the stove. Then stir in 1/3 cup sugar until all is dissolved and 2 tea bags and let steep. Allow the entire pot to cool to room temperature. While the pot of tea is cooling, cover with a lid so not much water evaporates.
Once completely cool, pour into a sterilized 1 quart glass jar. Then add 1 cup of kombucha from the bottle that has been fermenting.
Then add the tiny baby scoby mother to the top. Cover with a cloth and rubber band, then wait another 7-12 days and grow kombucha scoby until it is least a 1/4 to 1/2 inch thick. Once this is done see how to make a full gallon of homemade kombucha now that you have a strong scoby mother.
Trouble shooting kombucha scoby
Making kombucha scoby is easy with a few simple steps. It depends on the climate as to how healthy the scoby will grow. In a climate with higher temperatures, you may find your mother growing faster. It may mature within 7 days. However, in a colder climate it may take 10-12 days to reach the full potential. During the winter months, I let mine ferment a little longer to get the perfect brew. I highly recommend this organic tea to make the kombucha. This is what I use and it comes out perfect every time.
To clean the glass container, it is best to use vinegar. Regular soap is made to kill bacteria and we do not want that. Using vinegar is a natural way to kill any remaining bacteria and sterilize the glass container. I simply pour a little vinegar in the bottom of the container and use a paper towel to wipe down the sides and top. Then rinse well with water. You must use glass containers and never plastic. Glass can be cleaned, plastic may continue to harbor bad bacteria and ruin your kombucha and possibly even make you sick.
Use extreme caution and care and make sure everything you use and touch is sterile. I wash my hands before I start and each time I touch anything new to ensure my whole process is clean. I have been making homemade kombucha for many months now, without any issues. Please let me know how you are doing or if you have any questions about how to make your own kombucha scoby.
(I am not an expert in making kombucha, these are the steps I use to make it every time. Please use good hygiene and sterilization processes to ensure a kombucha that is safe to drink)
*I am not a doctor. These statements have not been evaluated by the Food and Drug Administration. These products are not intended to diagnose, treat, cure, or prevent any disease.
I am excited to hear how this turns out for you!