We had a blast at our Disney Villaintines party the other week. I made some fun black and white cupcakes inspired by Cruella De Vil. These Cruella De Vil Cupcakes were a huge hit at our Disney Villains Party. The inside of the cupcakes had a surprise black and white cake. I want to show you just how easy it was to make them. We love to have parties and show our Disney Side.
How to Make Cruella De Vil Cupcakes
Ingredients for black and white cupcakes: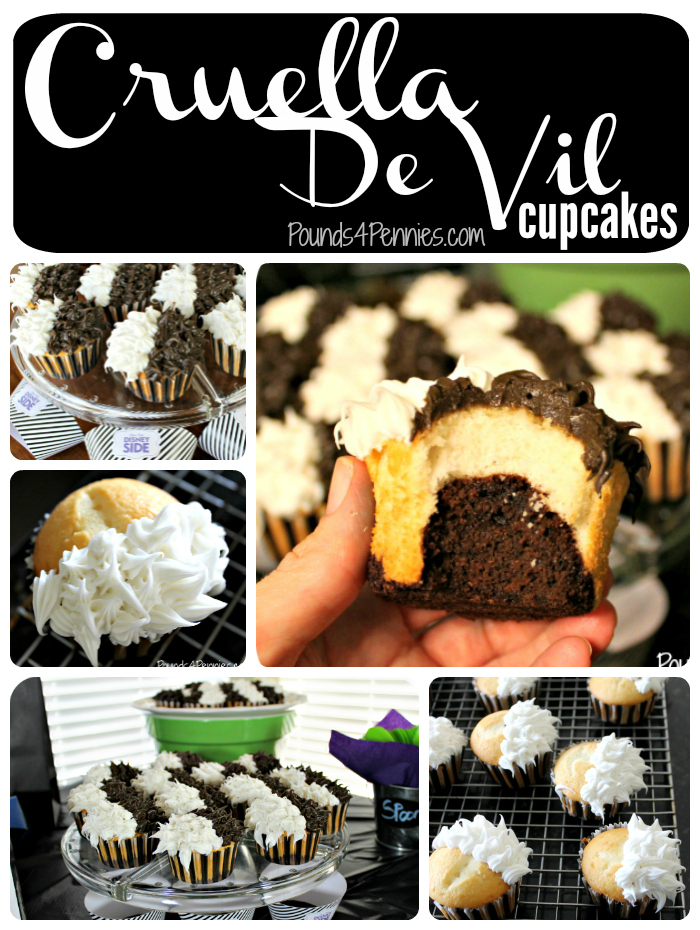 1 box brownie mix (plus ingredients to make)
1 box white cake mix (plus ingredients to make)
1 tub white frosting
1 tub dark chocolate frosting
black food coloring
Directions on how to make Cruella De Vil Cupcakes
1. Follow the directions on the brownie box and make the cake version of brownies.
2. In a separate clean bowl follow the directions on the box for a white cake. Most require only egg whites to ensure the color of the cake remains white.
3. Here comes the fun part. Even though this is two recipes it still makes about 24 cupcakes. Place cupcake liners in 24 muffin cups. I choose a black and white cupcake liner for this party.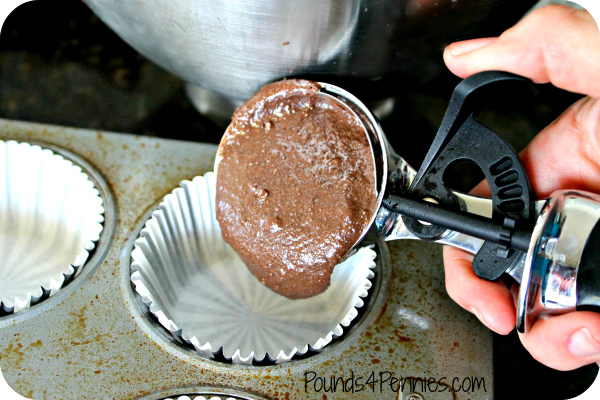 4. With an ice cream scoop used for measuring the batter. Add an ice cream scoop of brownie mix to all the muffin cups. Tap the bottom to make sure the brownies spread evenly across the bottom of the liner.
5. Now add a scoop of white cake mix on top. Fill about 3/4 full of white cake mix batter.
6. Bake according to the cake directions. Mine was about 350 degrees for about 20 min for cupcakes.
7. Once they are done allow to cool completely before adding icing. You can add a crumb coat to all the cupcakes if you would like. I didn't but I had a lot of icing on mine.
8.Get a star tip and an icing bag and pipe white icing over half the top of each cupcake. Allow the icing to fall in different directions to look like Cruella's hair. Next get dark chocolate frosting and add a little black to the frosting and do the same with the dark chocolate on the other half of the cupcake. Now doesn't that look just like the top of Cruella's hair?
I loved decorating these Cruella De Vil cupcakes. Since I am not an expert with the piping bag, this project was perfect for me.
All the teens loved these surprise inside cupcakes. Check out how to host a Disney Villains party and our other treat Candy Coated Pretzel Rod – Usula's Tentacles.  Check out my Cars themed birthday party for boys or party planning tips for a children's birthday party at home. You can follow my Disney Side Pinterest board for more great Disney Inspiration.
How do you show your Disney Side?