Nothing says fall like the smell of pumpkins throughout the house. These Cranberry Pumpkin Muffins smell so wonderful when they are baking in the oven. My kids love these so much and request them often for breakfast. I like making pumpkin muffins from scratch ahead of time to make my mornings easier. Find more Quick Breakfast Ideas to make ahead for busy mornings.
Cranberry Pumpkin Muffins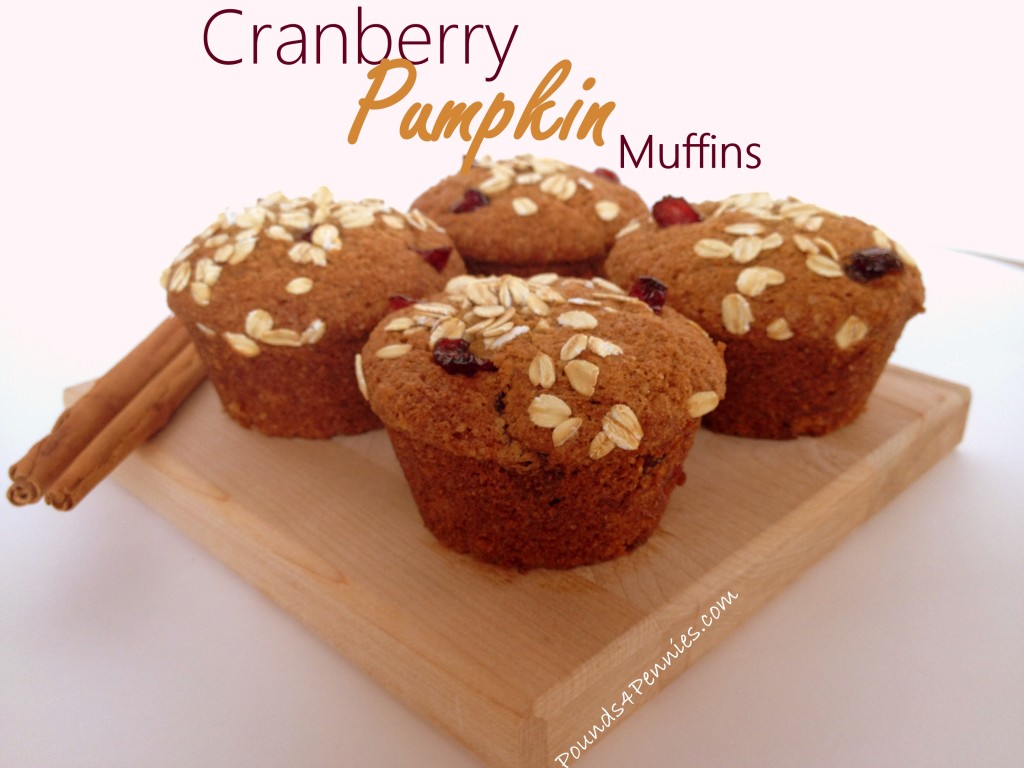 Ingredients for Cranberry Pumpkin Spice Muffins
2 ¼ cups All Purpose Flour (I use 100% Whole Wheat)
1 teaspoon Baking Soda
1 teaspoon Pumpkin Pie Spice (learn how to make Pumpkin Pie Spice)
½ teaspoon salt
1 3/4 cups Sugar (You can use less. These turned out very sweet)
2 Eggs
1 Cup Canned Pumpkin (I used pumpkin I had pureed in the freezer)
½ cup Vegetable Oil
1 cup dried cranberries
How to Make Cranberry Pumpkin Muffins:
1. Combine the dry ingredients first flour, baking soda, pumpkin pie spice, and salt in a large bowl. It is great if you have a little helper to help you stir and measure all the ingredients. I make my own pumpkin pie spice to have on hand. You probably have all the spices already and it is so easy to make.
2. In a separate mixing bowl beat eggs, sugar; then add the pumpkin and oil mix well. (It's OK if you just throw it all in together and then mix. Trust me I have done this several times)
3. Stir the wet ingredients into the dry until moistened and mixed thoroughly. Then fold in the cranberries.
4. Fill greased muffin tins ¾ full with the cranberry Pumpkin Muffin batter. I like to top the cranberry pumpkin muffins with a little sprinkle of oatmeal on top.
5. Bake in the oven at 375 degrees for 20 minutes. Muffin Tip: Let cool for 10 minutes before removing from pan.
The Cranberry Pumpkin Muffins have a great blend of tartness of the cranberries and the sweetness of the pumpkin that blends so well together. The muffins were very moist and almost melted in my mouth when we ate them. 
The sugar caramelized to make the edges a little crispy.
They still are very moist and delicious after you freeze them.
Let the pumpkin muffins cool completely on a wire rack. Then place Cranberry Pumpkin Muffins in a large gallon freezer bag and freeze for the kids to take out and enjoy every morning before school. Pop 2 of them in the microwave for about a minute. Let me know if you try these delicious muffins. Find more homemade muffin recipes.
I have switched all of my flour use to 100% Whole Wheat flour. The biggest difference I have noticed it is more dense than regular white four and a little more grainy in texture. The kids don't seem to mind. The flavor is great. The whole wheat flour has little more nuttier flavor than the bland white flour. There is  more nutrition in using whole grains than processed and bleached products and your body can digest this better.