With so many Star Wars fans, I just had to make some cute Star Wars Valentines Day Cards for all the fans.
My son is delighted to be giving these Star Wars Valentine's Day cards out this year.
If you have a color printer and some scissors, then these are so easy to make. Just print them out and cut out the valentines. I recommend printing on white card stock paper for the best results.  As of right now, I do not have a color printer. I am working on it.
Star Wars Valentines Day Cards
(affiliate links have been used throughout this post. I may make a few pennies from your purchase)
Click on the picture above to download the .pdf file and print out the cards. Or you may click on Star Wars Valentine's Day Cards to print. Since there are four per page, print enough copies for the entire class. After these cute cards are printed out on white card stock like this one, cut along the blue line or simply just cut between the blue lines. If you are like me, and don't want to take the extra time to cut on the blue lines. Then add your child's name and the name of their friend to each valentine card. It is just so easy to have custom Star Wars cards and inexpensive too!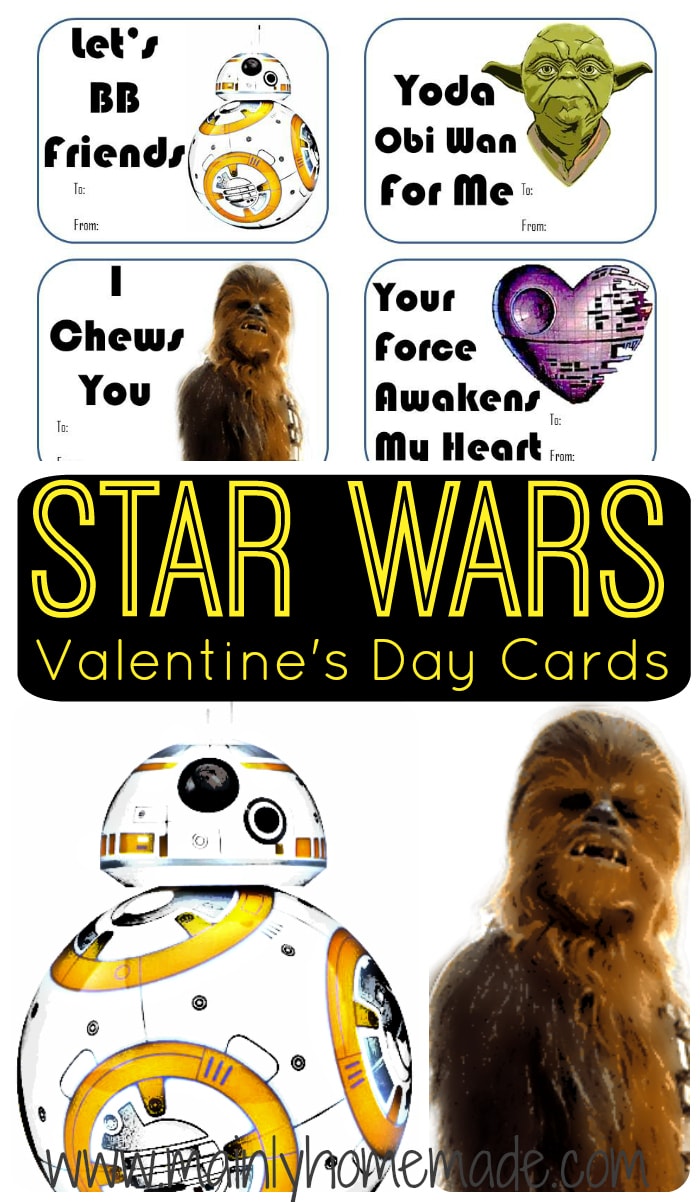 How easy it that to make these Star Wars Valentines Day Cards for this year? I chose to have a new character as well as some old favorites. BB-8 is such a cute and tiny droid everyone has fallen in love with. Plus Yoda and Chewy are die hard Star Wars favorites among kids. My favorite is "Your force awakens my heart." This card just goes perfectly with the Star Wars movie title.
See more great Valentine's Day ideas you can print and make for school. Follow Mainly Homemade on Facebook and pinterest for more inspirational homemade ideas.
What are your kids favorite Star Wars characters?