This holiday I am enjoying making a few crafts to help spruce up our home a little more. Candle light is such a nice soft touch of light, especially for a party. So I made these easy Christmas votive craft. I have had this idea in my head for about six months now. I have just been dying to make these and I am thrilled how they turned out. They are so easy and fun to make for only pennies.
Easy Christmas Votive
Materials for Christmas Votive Craft
Glue (I started with E6000, but switched to hot glue)
Zinc washers
Sticky Bling gems (I used clear and red)
Votive Candle holder
Votive Candle
How to make Christmas Votive Craft
1. Clean your votive candle holders. Next glue the washers to the votive candle holders. The washers give it a little extra sparkle I just love. I started using the E6000 glue, but it took a long time to set and the washers kept moving around. So I switched to hot glue. I tested burning a candle in it the hot glue did melt, so if you want to burn the candle use the E600. Otherwise really pretty decoration.
2. After all the washers are set around the top of the candle. Next add the gems on top of the washers for a little extra bling.
3. Since my package had several sizes of gems, I decided to add a medium one and a small one below the others.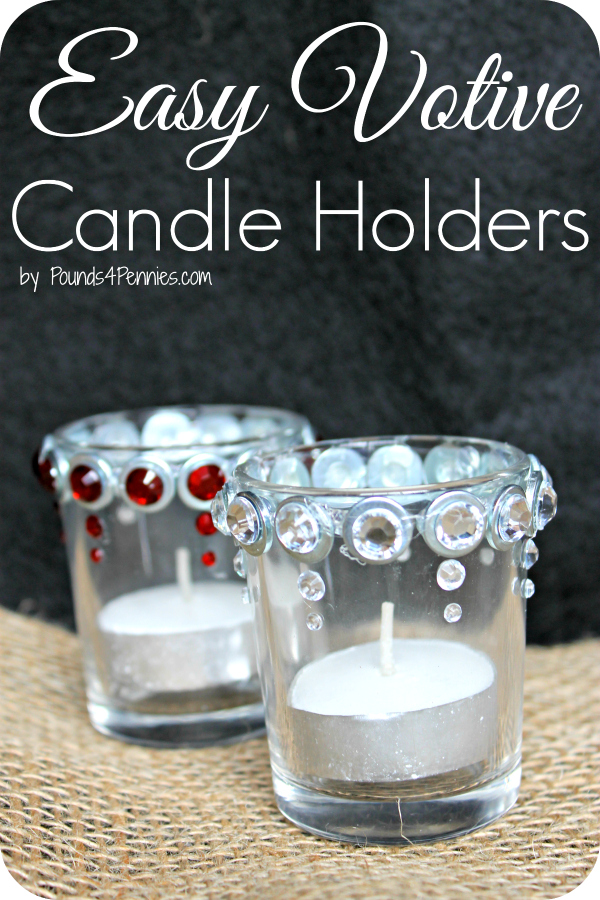 I just love the way they turned out. I don't know if I will add some E6000 to make sure all the washers are set and won't move, since I may never actually burn the candles. Overall I just love them. They add just the right amount of sparkle to my Christmas table. These would even make a great gift idea. Find more inspiration on my holidays Pinterest board. Let's keep in touch on Facebook for fabulous holiday ideas.
Would you make this Christmas Votive Craft for your table?