Do you need to add a little more character to your front yard?
Our front yard is in pretty sad shape. So sad our large ash tree out front has died and we have had to remove it. I cried a little when they came to remove the large beloved tree from our front yard.
We have planted a small tree on the other side in our front yard, but our yard still needs some more character. I went looking in the dollar store the other day and I noticed they had the $1 solar lights out for spring. I just knew I could do something with these inexpensive lights. They are only a dollar and that is it. Since they are solar powered, no additional electric costs.
While looking around the dollar store, I found some round candle holders and some clear, flat glass marbles. I knew these things must just go together. So I set out to make a set of homemade glass globe solar outdoor lights for the front of our house. These are amazingly easy to put together and I just love how it spruces up our front yard.
Dollar Store Solar Garden Globe Light
(affiliate links are used throughout this post. I may make a few pennies from your purchase)
Materials for Solar Garden Globe Light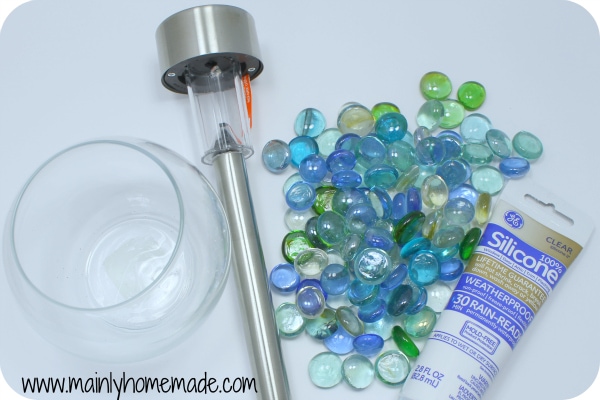 $1 store solar lights (or these lights will work)
$1 store Round candle vases
Flat glass marbles (found at the dollar store or like these marbles)
Silicone
Directions how to make DIY Dollar Store Solar Garden Globe Light
1. Clean the glass globes with some homemade glass cleaner to remove any oils or dirt that may be on the glass.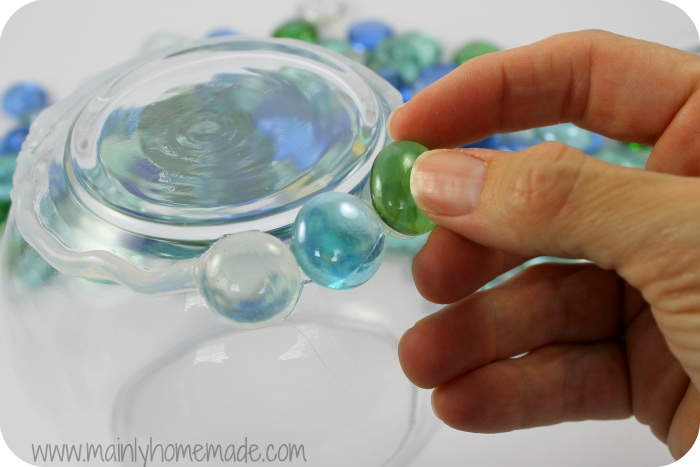 2. Starting at the bottom of the globe with it turned upside down,  add a generous line of silicone about 1/2 inch from the bottom. I found starting at the bottom of the globe was easier to get the glass marbles to set in place correctly.
3. Firmly press flat glass marbles into the silicone and line the bottom of the glass globe. You can adjust here and there to find the perfect fit.
4. Once the bottom layer is set. Set it on the table for a few minutes to allow the silicone to set the glass stones in place.
5. Add another layer of silicone about 1/2 inch from the first line of glass marbles. Repeat this process until the entire globe is completely covered in glass marbles. You may need a little more than one bag of glass marbles to complete one globe.
6. Allow silicone to dry over night.
7. Find the optimal spot for your solar outdoor lighting. Once you have the perfect spot push the solar light into the ground. Place a generous amount of silicone around the top of the solar light. Attach your marble covered globe to the top of the solar outdoor light. Now it is ready for your front yard.
Since the top of the globe is not covered it will allow enough light to charge the solar light during the day. This will provide hours of soft glowing light for our front yard. Although these solar lights are only a dollar. I have had some that have lasted more than two years. I  just love how this adds little glowing bits of light in our front garden. I have placed these solar outdoor lights next to my painted ladybug rocks I made last year.
What is your favorite item you have made for your garden?